Chisinau, 12 October /MOLDPRES/-Parliament Speaker Marian Lupu today met the chairman of the World Federation Okinawa Goju-ryu Karate-do, Morio Higaonna, the parliament's communication and public relations department has reported.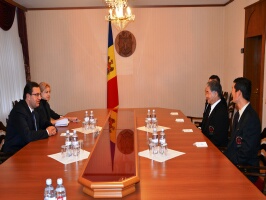 The Japanese master, Morio Higaonna said the agenda of his visit to Moldova comprises activities meant to put forth this kind of sport and carry out several practical workshops. The militaries of the National Army's Fulger Special Forces Battalion have already participated in the first practical workshop of martial arts training. Morio Higaonna praised the well-trained Moldovan sportsmen, saying the effects this type of sport has on the future generation may help build a tolerant, respectful and non-violent society.
Parliament Speaker Marian Lupu praised Morio Higaonna's input into the popularisation of this sport in Moldova. Lupu said besides being healthy and in a good physical shape, the practitioners of this sport acquire self-knowledge and self-control abilities, becoming more tolerant and responsible. The parliament speaker said this sport offers the society numerous benefits, by involving young people in physical and moral education activities.
Master Higaonna is on his third visit to Moldova (he visited in 2000 and 2005). Each time he held training sessions for the special Moldovan unities which ensure the public security, security of top authorities and defend the country.